Welcome to Sarajevo, the captivating capital city of Bosnia and Herzegovina! Steeped in a rich tapestry of history, culture, and natural beauty, Sarajevo beckons travelers from around the globe. As you embark on your journey to discover the wonders of Sarajevo, let Bosnian Voyager be your trusted travel agency, committed to providing exceptional services and ensuring an unforgettable experience.
Table of Contents
Amazing Sarajevo Walking Tours
Begin your Sarajevo adventure with a walking tour, the perfect way to acquaint yourself with the city's layout and uncover hidden gems.
Our knowledgeable guides will lead you through Sarajevo's streets, sharing captivating stories of the city's triumphs and tribulations.
Marvel at the symbolic Sarajevo Roses, reminders of the Sarajevo Siege, a chapter etched in modern history.
Immerse yourself in the resilient spirit of the Sarajevans who, despite the challenges, have fostered a harmonious community embracing diversity.
Latin Bridge: Where History Unfolded
Step back in time to the 28th of June, 1914, a day that marked a pivotal moment in world history.
Stand at the corner where Gavrilo Princip initiated the event that triggered World War I.
The Latin Bridge witnessed the assassination of Archduke Franz Ferdinand and his wife Sophie.
Delve into the significance of this historical site and the repercussions that followed.
As you admire Ottoman architecture, you can't help but marvel at the bridge's enduring charm.
Vijećnica/City Hall: Where Architecture Meets Resilience
Sarajevo's architecture narrates tales of grandeur and resilience.
Witness the juxtaposition of Austro-Hungarian craftsmanship and Soviet-style simplicity as you explore the captivating City Hall.
Designed by Czech architect Karel Pařík, this magnificent structure stands as a testament to the city's enduring spirit.
Although the original library within was destroyed during the Sarajevo Siege, its restoration showcases the city's commitment to preserving its historical heritage.
House of Spite – Man vs. The System
Discover the intriguing story of the House of Spite, a testament to the tenacity of one man.
Amidst the Old Town's charm, this little house stood in the prime location desired by the Austrian-Hungarian monarchy.
Unyielding, the house's owner negotiated a deal that relocated his home brick by brick, directly facing the new City Hall.
Today, this historical site houses a unique restaurant, inviting you to savor its fascinating tale along with a delightful meal.
Exploring Sarajevo Old Town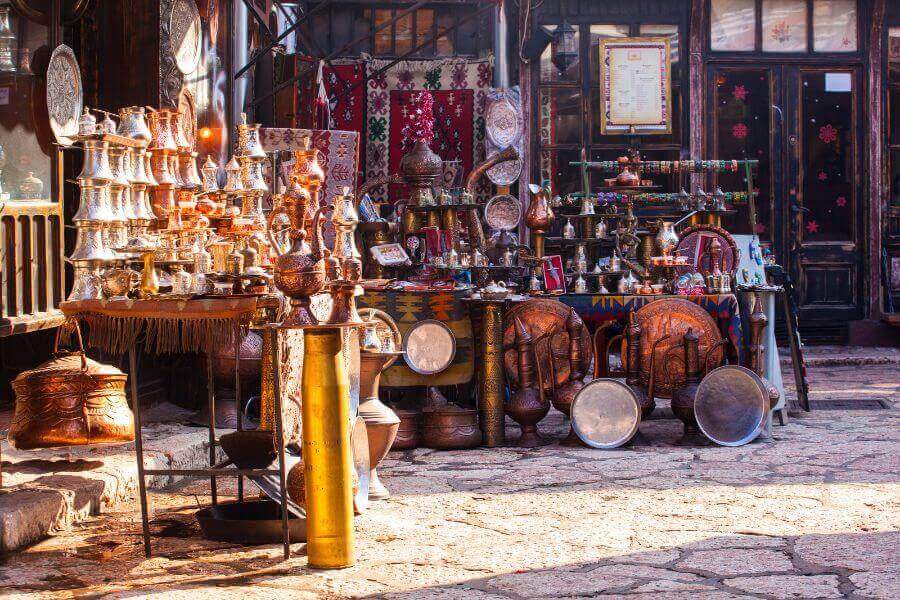 Sarajevo's Old Town, known as Baščaršija, is a treasure trove of history and charm.
Lose yourself in its labyrinthine streets filled with traditional Ottoman-style shops, bustling cafes, and stunning architectural marvels.
Marvel at the intricate beauty of the Gazi Husrev-bey Mosque, the largest mosque in the Balkans, and admire the elegant fountains scattered throughout the area.
Don't miss the chance to indulge in the local culinary delights, such as cevapi (grilled meat dish) and burek (savory pastry), which can be savored at the historic Kastel Restaurant.
Baščaršija is a vibrant hub both during the day and at night, offering a captivating atmosphere that shouldn't be missed.
Sebilj Fountain: A Quenching Tradition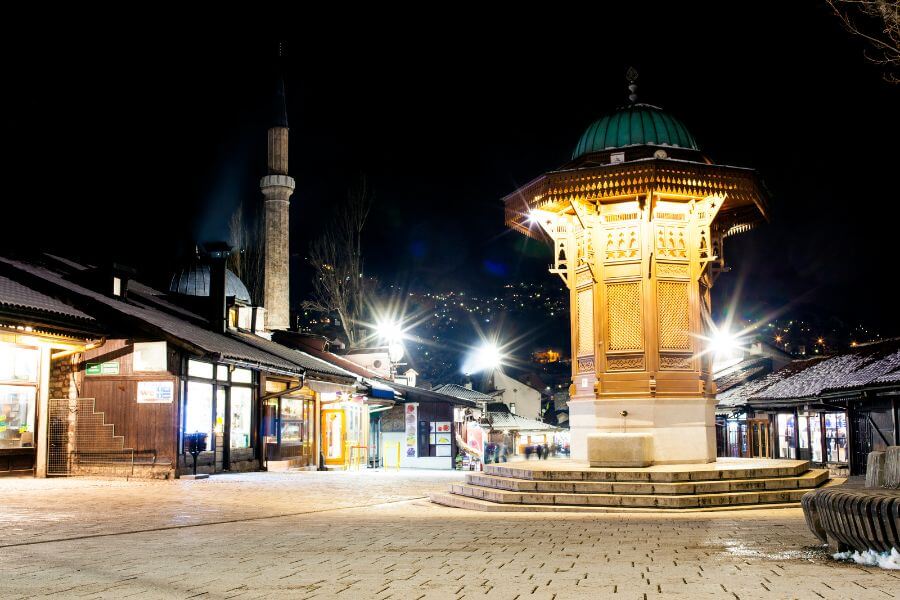 Quench your thirst at the Sebilj Fountain, one of Sarajevo's many fountains scattered throughout the city.
This iconic landmark not only serves as a refreshing pit stop but also represents a cherished tradition.
According to local folklore, if you drink water from the Sebilj Fountain and make a wish, it is believed that your wish will come true.
Take a moment to indulge in this delightful custom and let the magic of Sarajevo envelop you.
Sarajevo War Tunnel Museum: Journey to Survival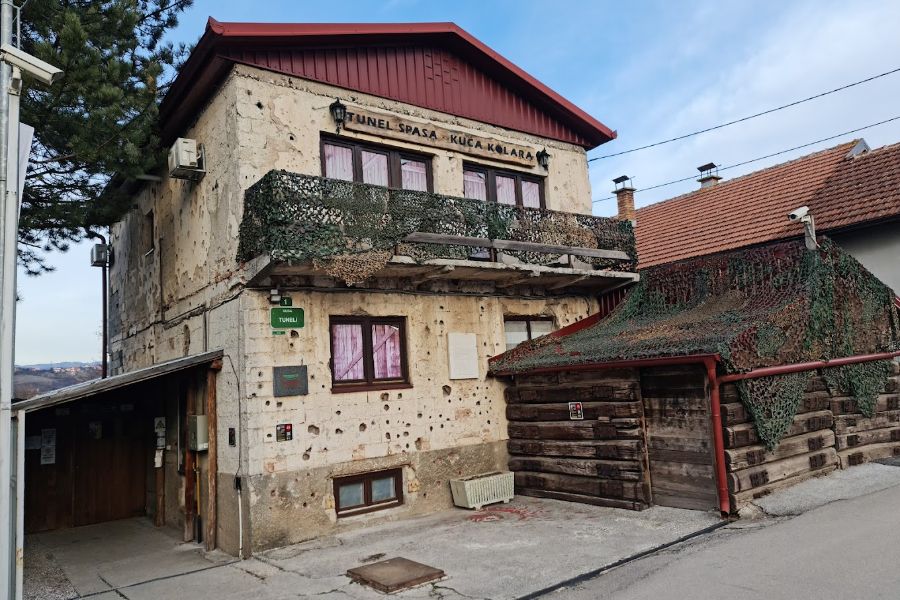 Gain a profound understanding of Sarajevo's turbulent past by visiting the Sarajevo War Tunnel Museum.
This underground passage, known as the Tunnel of Hope, was a lifeline during the Sarajevo Siege from 1992 to 1995.
It provided vital supplies and a connection to the outside world.
Explore this poignant museum, which offers a glimpse into the hardships faced by the city's residents during the war.
Walk through a section of the original tunnel, and be inspired by the resilience and strength that emanates from its walls.
Mt. Trebević: Nature's Serene Escape
Escape the bustling city and immerse yourself in the tranquility of nature at Mt. Trebević.
Just a short drive from Sarajevo, this mountain offers breathtaking panoramic views and a variety of outdoor activities.
Hike through lush forests, take a cable car ride to the summit, or enjoy a picnic surrounded by picturesque landscapes.
As you soak in the beauty of Mt. Trebević, appreciate the transformation this mountain has undergone from a site of military conflict to a symbol of peace and serenity.
Sarajevo National Museum: Timeless Treasures
Delve into Sarajevo's rich cultural heritage at the Sarajevo National Museum.
Located in the heart of the city, this museum houses a vast collection of archaeological, historical, and artistic treasures.
Explore exhibits that showcase the diverse influences that have shaped Bosnia and Herzegovina over the centuries.
From ancient artifacts to intricate Ottoman calligraphy, each piece tells a unique story, offering a deeper understanding of the region's past.
Culinary Delights: What to Eat in Sarajevo
Sarajevo is a culinary paradise, offering a diverse array of flavors to tantalize your taste buds.
Start your culinary journey with cevapi, a quintessential Bosnian dish consisting of grilled minced meat served with traditional flatbread and onions.
Burek, a flaky pastry filled with various fillings such as meat, cheese, or spinach, is a must-try delicacy.
Savor the rich and hearty Bosnian bean soup, known as grah, and enjoy the delicate flavors of Bosnian baklava, a sweet pastry layered with honey and nuts.
To experience the true essence of Bosnian cuisine, visit the bustling Markale Market, where you can sample an array of local produce, cheeses, and spices.
Sarajevo at Night: A Delightful Experience
When the sun sets, Sarajevo transforms into a magical wonderland, with a myriad of things to do and see.
The city's vibrant nightlife offers a range of options, from cozy bars and traditional music venues to hip clubs and live performances.
Take a leisurely stroll along Ferhadija Street, where you can explore trendy shops and enjoy a cup of Bosnian coffee at one of the charming cafes.
For a panoramic view of the city at night, head to the Yellow Fortress, perched atop a hill overlooking Sarajevo.
The illuminated cityscape below is a sight to behold.
To add a touch of adventure to your evening, embark on a tour of the Abandoned Bobsled Track, a remnant of the 1984 Winter Olympics, and witness the haunting beauty of this forgotten structure.
Most Asked Questions About Sarajevo
What is the most famous thing in Sarajevo?
One of the most famous and iconic landmarks in Sarajevo is the historic Latin Bridge, where the assassination of Archduke Franz Ferdinand of Austria took place in 1914, triggering the start of World War I.
Is it worth going to Sarajevo?
Absolutely! Sarajevo is a city of immense historical and cultural significance, offering a unique blend of East and West, along with stunning natural landscapes. The city's warm hospitality, vibrant atmosphere, and fascinating attractions make it well worth a visit.
How long should I spend in Sarajevo?
To truly experience the beauty and charm of Sarajevo, it is recommended to spend at least 3 to 4 days exploring the city and its surrounding areas. This will allow you to immerse yourself in the rich history, enjoy the local cuisine, and embark on day trips to nearby attractions.
What is special about Sarajevo?
Sarajevo is a city where diverse cultures converge, creating a unique atmosphere and a fascinating blend of architectural styles, including Ottoman, Austro-Hungarian, and Yugoslavian influences. It is also known for its cultural events, vibrant arts scene, and the symbolic role it played in recent history during the Bosnian War.
Why is Sarajevo so popular?
Sarajevo's popularity stems from its historical significance, cultural diversity, and natural beauty. The city's complex past, showcased through its architecture and museums, attracts history enthusiasts, while its welcoming atmosphere and hospitable locals make it a favorite among travelers seeking authentic experiences.
Is Sarajevo a walkable city?
Yes, Sarajevo is a highly walkable city, with many of its main attractions and landmarks located within a compact area. Exploring the old town on foot allows you to fully immerse yourself in its charm and discover hidden gems along the way.
Discover the Wonders of Sarajevo and Beyond with Bosnian Voyager
Bosnia and Herzegovina's capital city, Sarajevo, is a treasure trove of history, culture, and natural beauty.
With its captivating old town, vibrant nightlife, and culinary delights, it offers an unforgettable experience for every traveler.
Embark on a journey with Bosnian Voyager and explore the top things to do in Sarajevo and its surrounding areas.
From various city tours and the Abandoned Bobsled Track to culinary adventures and winter wonderland experiences, our expertly crafted itineraries ensure you make the most of your time in this enchanting destination.
Discover the wonders of Sarajevo and create memories that will last a lifetime.
Our Most Popular Tours To Sarajevo
We offer many tours that include a visit to Sarajevo and its most popular locations:
Don't Hesitate To Say Hi!
Got any questions about our tours or the city? Don't hesitate to contact us anytime for more info and booking.
Use the following phone number and email: