Welcome to Mostar, Bosnia & Herzegovina – a city that boasts a rich history, fascinating culture, and breathtaking natural beauty. As a seasoned tour guide and Bosnian Voyager's founder, I'm pleased to introduce you to the top 6 things to do in Mostar. Whether you're a history buff, adventure seeker, foodie, or just looking for a place to unwind, Mostar offers an array of exciting activities and attractions.
Before we delve into the city's must-see sights and sounds, let's take a moment to appreciate the deep-rooted history that has shaped Mostar's unique identity. Despite facing various challenges throughout the centuries, Mostar has managed to emerge stronger, fusing together the distinct cultures and traditions of its past rulers – from the Ottoman Empire to the Austro-Hungarian Empire.
For more comprehensive and detailed information about the city, you can check out our Mostar ultimate travel guide.
Perhaps, the most significant symbol of Mostar's resilience is the Stari Most, or Old Bridge, originally constructed in the 16th century during the Ottoman era. The iconic bridge was destroyed during the Bosnian War in 1993, but the city restored it in 2004. Today, the Stari Most serve as a powerful reminder of Mostar's unity and determination in the face of adversity.
Now, let's embark on an adventure to discover the best things to do in Mostar.
Whether you're intrigued by the city's history, excited by its natural wonders, craving delicious cuisine, or looking for vibrant nightlife, there's something for everyone. From solo travelers to groups of friends and families, Mostar will surely capture your heart and create unforgettable memories.
Table of Contents
The Top 6 Things To Do in Mostar
Are you ready to explore the best of Mostar? Here are the top things to do in this enchanting city that you definitely shouldn't miss:
Stari Most (Old Bridge)
One of the most recognizable landmarks in Bosnia and Herzegovina, the Old Bridge of Mostar is a UNESCO World Heritage site and a true testament to the city's history and resilience. The bridge, originally built during the Ottoman era, spans over the emerald Neretva River and offers breathtaking views of the city and surrounding mountains.
Old Town of Mostar
Take a stroll through Mostar's charming Old Town, where time seems to stand still. With its picturesque cobblestone streets, historic buildings, and vibrant cafes and shops, this neighborhood is a must-see for any visitor.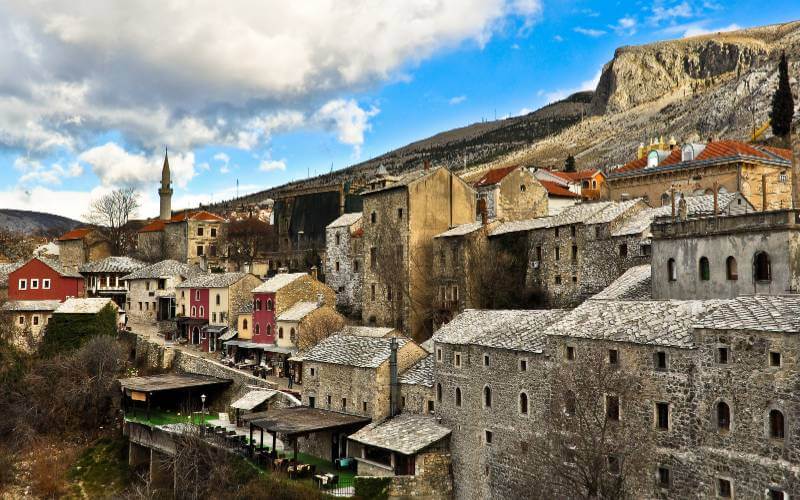 Koski Mehmed Pasha Mosque
Climb the steps of this 17th-century mosque for stunning panoramic views of Mostar's Old Town, Stari Most, and the surrounding mountains. The mosque is not only a significant religious site but also a fascinating example of Ottoman architecture.
Museum of Herzegovina
Delve into the fascinating history and culture of Mostar at the Museum of Herzegovina. The museum's collection includes a wide range of artifacts and exhibits from the Ottoman period to the present day, providing visitors with a comprehensive overview of the city's heritage.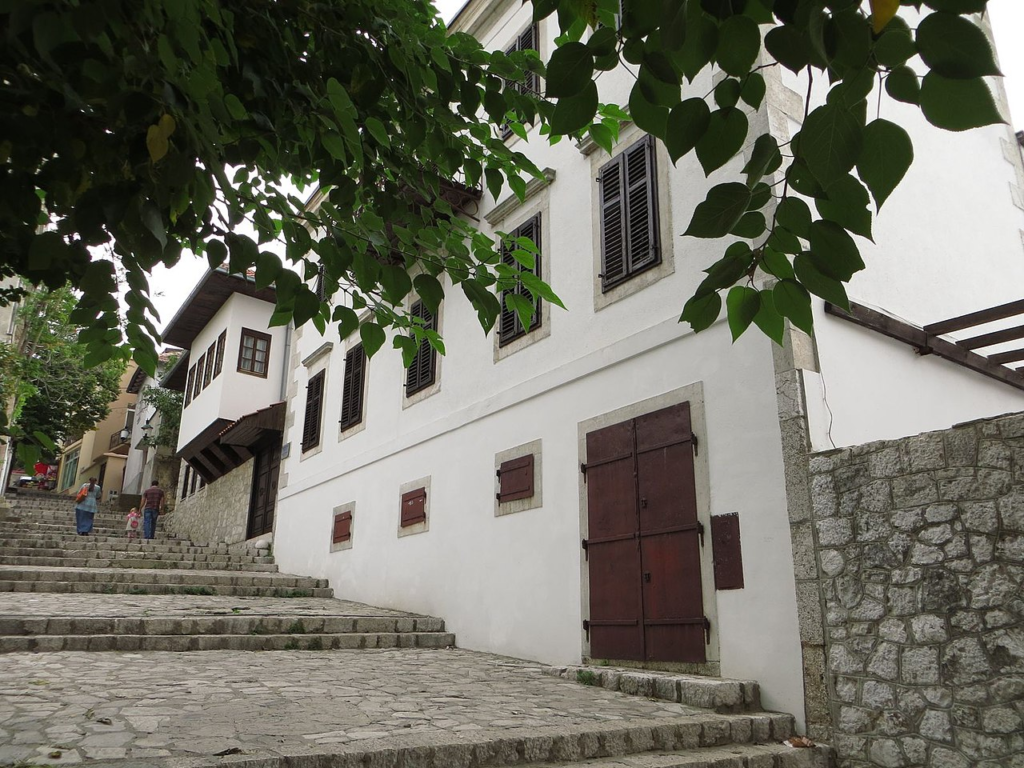 Kravice Waterfalls
If you're seeking a break from the city, head to Kravice Waterfalls, located just a short drive from Mostar. With its cascading waterfalls, turquoise pools, and lush greenery, this natural wonderland is the perfect place to unwind and enjoy the beauty of Bosnia and Herzegovina's countryside.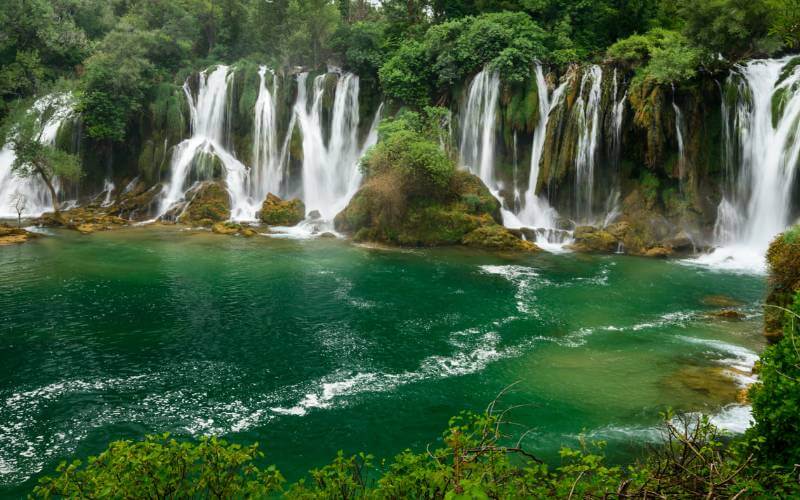 Blagaj Tekke
Visit the tranquil Blagaj Tekke, a Dervish monastery that dates back to the 15th century. Located at the foot of a cliff, the monastery is surrounded by crystal-clear river water and verdant foliage, creating a serene and picturesque atmosphere.
No matter what your interests are, Mostar has something for everyone. Whether you're a history buff, a nature lover, or simply looking for a relaxing getaway, Mostar is a destination that will capture your heart and imagination.
Join Bosnian Voyager on a journey to discover the best of this enchanting city with our Top Things To Do in Mostar list.
Food & Drink in Mostar
One of the best ways to experience a new culture, and one of the most important things to do in Mostar in general is through its cuisine, and Mostar has plenty of delicious options to offer. Here are some must-try foods and drinks during your visit:
Ćevapi
A traditional Bosnian dish, Ćevapi consists of grilled minced meat (usually beef, lamb, or pork) served in a warm, soft somun bread, topped with onions and sour cream. It's a perfect street food option that's easy to find and very affordable.
Burek
Another popular Bosnian dish, Burek is a savory pastry made with phyllo dough, filled with meat, cheese, or vegetables. It's often served as a breakfast or lunch option, and you can find it in many bakeries and pastry shops around Mostar.
Sutlijaš
If you're looking for a sweet and creamy dessert, try Sutlijaš – a traditional Bosnian rice pudding flavored with cinnamon, sugar, and sometimes vanilla. It's a delicious and comforting treat that's perfect for colder days.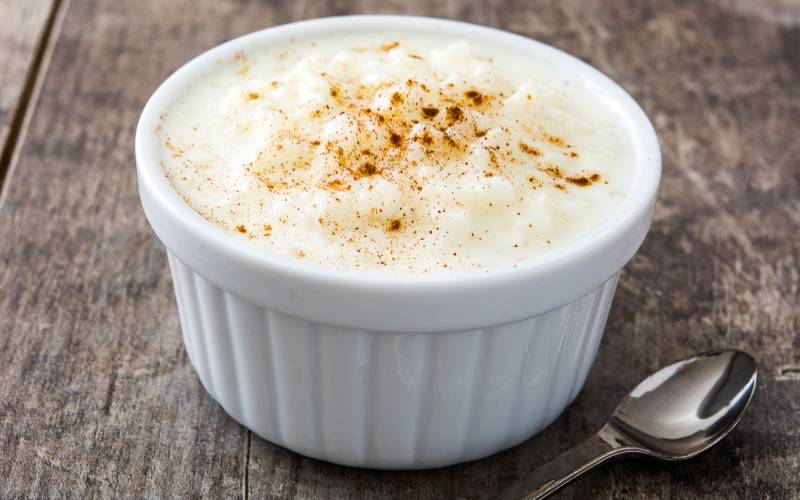 Bosnian coffee
Bosnians are famous for their coffee culture, and trying a cup of Bosnian coffee is a must-do when in Mostar. It's served in small, traditional cups, and often accompanied by a piece of Turkish delight. Bosnian coffee is strong, aromatic, and usually sweetened with sugar.
Herbal teas
If you're not a coffee drinker, you can always opt for a cup of herbal tea instead. Bosnians have a long tradition of using herbs for medicinal purposes, and you can find many tea blends in local shops and markets. Some popular flavors include mint, chamomile, and sage.
With so many tasty options to choose from, foodies will have a great time exploring the flavors of Mostar. Whether you're in the mood for a hearty meal or a sweet treat, there's something for everyone.
Shopping in Mostar
Mostar is a shopper's paradise, offering a range of unique and interesting shopping experiences that are sure to delight visitors. From traditional handicrafts to modern fashion and everything in between, here are some of the best places to shop in Mostar:
Old Bazaar (Kujundziluk)
Step back in time at the Old Bazaar, or Kujundziluk, where you'll find yourself transported to a bygone era of narrow cobblestone streets and charming shops selling handmade crafts. Pick up a beautiful piece of copperware or a piece of locally made jewelry as a souvenir, or simply enjoy the atmosphere and soak up the local culture.
Mepas Mall
If you're looking for a more modern shopping experience, head to Mepas Mall, Mostar's premier shopping center. This large mall boasts over 100 stores, including international brands like Zara and H&M, as well as local shops selling clothing, shoes, and accessories. Take a break from shopping and catch a movie at the cinema, or grab a bite to eat at one of the many restaurants.
Haseferet Market
For a taste of local life, head to Haseferet Market, where you'll find stalls selling fresh produce, spices, and traditional Bosnian products like ajvar (a red pepper spread) and sujuk (a spicy sausage). This bustling market is a feast for the senses, with colorful displays of fruits and vegetables, the aroma of fresh spices, and the buzz of local life.
Tepa Market
Another popular shopping spot in Mostar is Tepa Market, where you can browse through a variety of stalls selling everything from clothing and shoes to books and DVDs. This is also a great place to pick up some fresh fruits and vegetables, as well as traditional Bosnian sweets like baklava.
Sniper Alley Street Art
If you're a fan of street art, don't miss a visit to Sniper Alley. Once a site of intense fighting during the Bosnian War, this street is now a vibrant hub of art and culture. Check out the colorful murals and graffiti created by local and international artists, or browse through the shops selling prints and other art pieces.
No matter what you're looking for, Mostar offers a unique and rewarding shopping experience that's sure to satisfy you. So grab your wallet and get ready to explore!
Day Trips from Mostar
Some of the Day Trips from Mostar we mentioned earlier through our Top 6 Things To Do in Mostar list, like Blagaj and Kravice Waterfalls, but here are some more that we also suggest visiting near Mostar.
Pocitelj
For history buffs, a visit to Pocitelj is a must. This well-preserved Ottoman-era town dates back to the 14th century and is now a UNESCO World Heritage Site. Visitors can wander through the narrow streets, admire the architecture, and climb the hill to the old fortress for panoramic views of the surrounding countryside.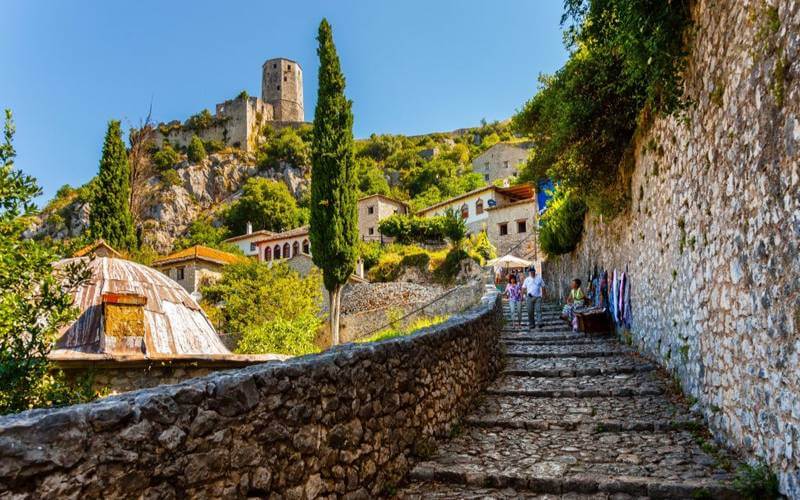 Medjugorje
Located about 30 minutes from Mostar, Medjugorje is a significant site for Catholics around the world. In the early 1980s, it was said that the Virgin Mary appeared to six local children, and since then, the town has become a popular destination for pilgrims. Visitors can attend mass at the St. James Church, hike up Apparition Hill, and explore the town's numerous religious shrines.
Hutovo Blato Nature Park
Animal lovers will enjoy a trip to Hutovo Blato Nature Park, a vast wetland area that's home to over 240 bird species. The park offers boat tours that allow visitors to get up close to the wildlife, as well as hiking and cycling trails that wind through the reed beds and pastures. You might spot storks, herons, eagles, and even wild horses during your visit.
No matter what your interests are, a day trip from Mostar is sure to be a memorable experience. Be sure to bring your camera and plenty of sunscreen!
Experience the Best of Mostar with Bosnian Voyager
Now that you've seen all that Mostar has to offer, you might be wondering how to make the most of your time in the city.
That's where Bosnian Voyager comes in – our team of expert guides and travel planners can help you create the perfect itinerary for your visit to Mostar.
Whether you want to explore the historic old town, try the local cuisine, or venture out into the stunning countryside, we have a tour that will meet your needs.
We can even create custom tours based on your interests, so you can see the parts of Mostar that appeal to you the most.
Here are our most popular tours that include a visit to the historic city of Mostar:
We also offer a wide variety of local transfers that are highly popular with tourists.
You can check them out right HERE.
At Bosnian Voyager, we believe that travel should be more than just checking off items on a bucket list.
It should be an opportunity to connect with a new culture, learn something new, and make unforgettable memories.
That's why we're dedicated to providing our clients with an authentic and immersive travel experience.
So if you're ready to experience the best of Mostar, let Bosnian Voyager be your guide.
Contact us today to start planning your trip.